Investor Insights > News > Recovery in markets but challenges remain

Recovery in markets but challenges remain
December 2020
Following on from the COVID-19 market plunge earlier in the year, better-than-expected economic data from major economies, particularly China, has continued to drive recovery in the share markets. The positive market performance also follows encouraging COVID-19 vaccine trial and treatment news, continued economic support from governments and central banks and outperformance by technology stocks driven by solid earnings through the pandemic.
For more information please read the market update further below.
OneAnswer Performance
Vanguard diversified funds demonstrate the impact of a volatile quarter*

The performance has been mixed in the suite of Vanguard diversified funds which are available through OneAnswer. As we expected, returns over one year to 31 October 2020 for funds with a higher allocation to riskier assets such as shares (Growth and High Growth Index) have been negatively impacted by the market downturn caused by the pandemic. However, these funds have benefitted from the recovery in markets more recently.
The Vanguard defensive funds (Conservative and Balanced Index) have fared better. Australian and global fixed interest (bonds) have provided some protection against poorer performing, riskier assets such as global property and Australian shares. Returns for the Conservative and Balanced Index funds were positive for the one-year period to 31 October 2020 at 1.27% and 0.54% respectively.
Further, the three and five-year performances were strong for all funds. Over the
five-year period, the performance ranged from 4.16% for the Conservative Index to 6.27% for the High Growth Index. The Growth and High Growth Index funds, with their higher allocation to growth assets, such as shares, have benefitted from the share market rally over the past decade and the recent strong recovery.
To view your investment mix and check on the latest performance of your portfolio, log into your account or register for access on My OnePath.
Integra Performance
Vanguard funds impacted by challenging market conditions*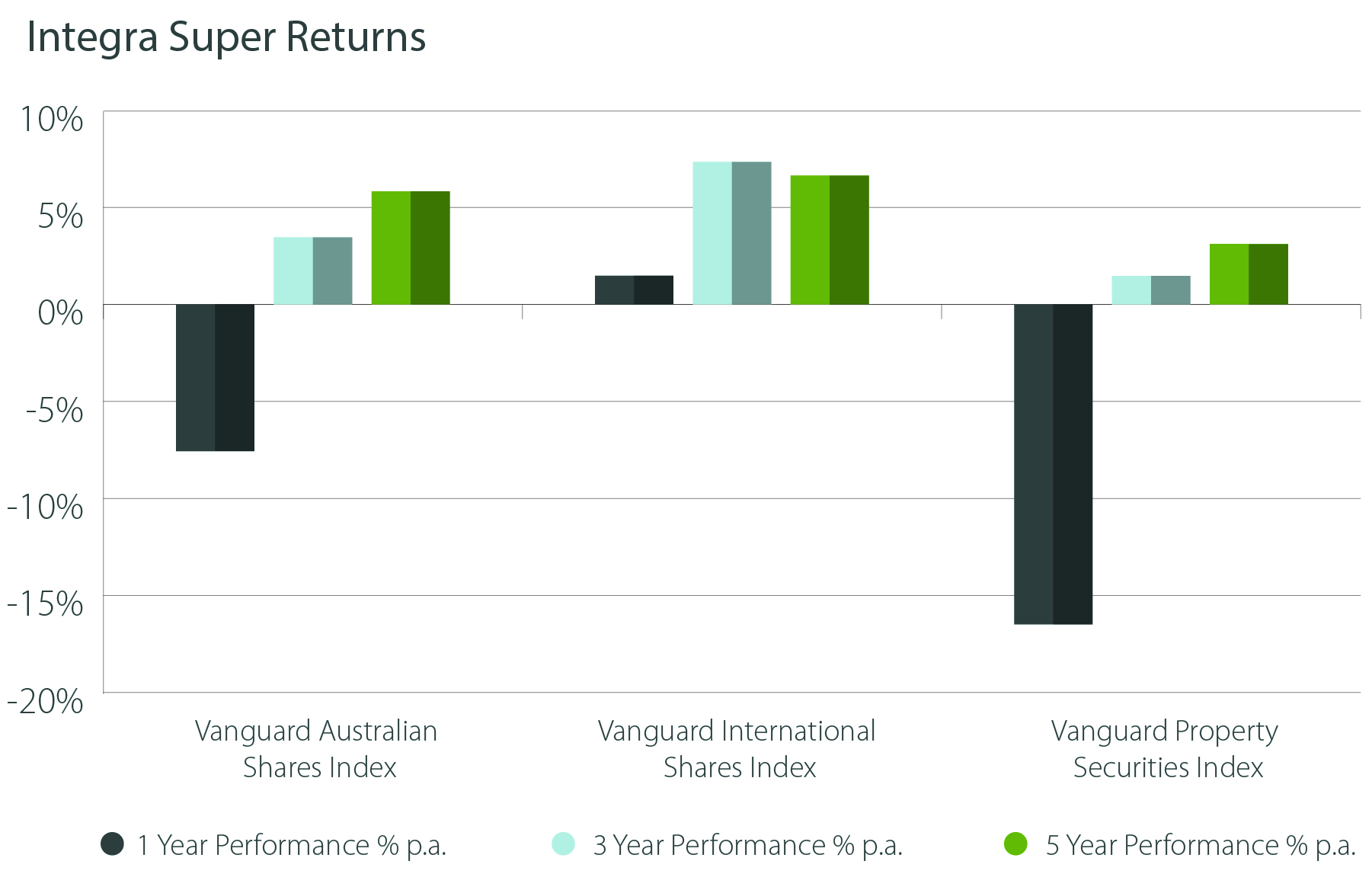 * The performance information provided above is for Integra Personal Super to 31 October 2020. Past performance is not indicative of future performance. The future value of investments may rise and fall with changes in the market. Returns quoted use the unit price which is calculated using the asset values for the relevant month end. Please note that all returns are after the deduction of management fees and expenses, and assume all distributions are re-invested. Integra Super is closed to new employers/members.
Over the one year to 31 October 2020, performance has been mixed in the suite of Vanguard index funds, which are available through Integra Personal Super.
The International Shares Index option had a positive return of 1.48% for the year despite the pandemic's impact on global economies, while the Australian Shares Index option returned -7.56%. Over the longer run, returns over three and five years were more positive, reflecting the fact that share markets have benefitted from the rally over the past decade and the recent strong recovery.
The Property Securities Index option was significantly impacted by COVID-19 with a return of -16.49% for the year to 31 October 2020. It invests in property securities (shares) listed on the Australian Securities Exchange (ASX). These securities are real estate investment trusts (REITs) and companies that own real estate assets and receive a large proportion of their revenue from rental income. While Australian cities have started to come out of 'lockdown', and borders and businesses have started reopening, the risk of vacancies and rental uncertainty remains high so investors are still cautious, and some have sold off as a result. However, over the long term, returns are still positive at 1.47% for three years and 3.12% for five years.
To view your investment mix and check on the latest performance of your portfolio, log into your account or register for access on My OnePath.
Economic and market update
The COVID-19 health crisis continues to cause immeasurable human tragedy and suffering and the lockdown and isolation measures that have been put in place to control the spread of the virus have driven a global economic downturn.
While the virus persists, with a devastating impact on society, recent data shows that the world and Australian economies are now beginning to show signs of recovery and we may be starting to emerge from one of the deepest, but also one of the shortest, recessions of the last century. That said, we expect that after the initial bounce the recovery will be gradual, particularly until safe, effective and widely distributed vaccines are readily available.
In contrast to the hesitant response to the Global Financial Crisis (GFC), policy makers have responded swiftly with very large stimulus packages which have supported the recovery. However, some areas of the economy are faring better than others. Many service orientated businesses located in central city locations and sectors geared to travel continue to struggle while on-line and suburban sales have lifted.
Despite the uncertainty continuing to make share markets unsettled, most global markets finished the September quarter markedly higher. The positive market performance reflected large stimulus measures, hopes of a viable vaccine, better-than-expected economic data from major economies particularly China and continued outperformance by technology stocks driven by solid earnings through the pandemic.
What may be ahead?
On the positive side of the ledger ultra-low interest rates are likely to provide meaningful support for the economy and share markets. Governments also continue to demonstrate their commitment to supporting economic recovery, as demonstrated by the recent Australian Federal Budget where a raft of spending and tax cut measures, designed to grow businesses and create jobs, were announced. Markets have also been buoyed by the Biden presidency; the prospect of a gridlocked Congress which would stall proposed Democrat tax hikes and regulatory measures that could be a headwind for shares and the likely roll out of vaccines in 2021.
Possible setbacks for markets on the horizon include:
There are fears of a new 'cold weather wave' of the virus. Already Europe and the UK have seen a spike in new cases which has resulted in a second series of lockdowns and US cases have also continued to surge. Thankfully improved testing and treatment and better protection for the most vulnerable means that the death rate for developed countries is well down when compared to the peak of the outbreak earlier this year.
While Biden has been elected as President the race was much closer than many anticipated, leaving the Democrat program more constrained. That said, the outcome may be good for markets as tax hikes will be off the table and Biden may be a more conciliatory and steadier President, particularly on the trade and foreign policy issues that have bothered markets under Trump's Presidency.
The stand-off between the US and China will likely continue although it may be less overtly confrontational under a Biden Administration.
Where to from here?
While it's clear that the worst of the initial decline in economic growth is now passing, it's still an uncertain time and markets do not like uncertainty. However, over the longer term, markets have shown they are able to recover from these significant declines.
"The COVID-19 pandemic is an example of a market shock that few if any predicted would cause such global disruptions. Importantly, we are committed to helping our clients navigate these challenging and uncertain times and maintain a strategic, disciplined approach designed to deliver to their longer-term goals. We believe that a well-diversified and well-managed portfolio is the best way to generate consistent returns," said OnePath Portfolio Manager, Liam Wilson.
You may also be interested in
---
This website is issued by OnePath Custodians Pty Limited (OnePath Custodians) ABN 12 008 508 496, RSE L0000673, AFSL 238346 and OnePath Funds Management Limited (OnePath Funds Management) ABN 21 003 002 800, AFSL 238342
You should read the relevant Financial Services Guide (FSG), PDS, Additional Information Guide (AIG), Investment Funds Guide (IFG), and product and other updates (for open and closed products) available at onepath.com.au and consider whether OnePath products are right for you before making a decision to acquire, or to continue to hold any OnePath product. Alternatively, you can request a copy of this information free of charge by calling Customer Services on 133 665.
Taxation law is complex, and this information has been prepared as a guide only and does not represent taxation advice. Please see your tax adviser for independent taxation advice.
Before re-directing your super or moving your money into your product, you will need to consider whether there are any adverse consequences for you, including loss of benefits (e.g. insurance cover), investment options and performance, functionality, increase in investment risks and where your future employer contributions will be paid. Any investment is subject to investment risk, including possible repayment delays and loss of income and principal invested. Returns can go up and down. Past performance is not indicative of future performance.
The information provided is of a general nature and does not take into account your personal needs, financial circumstances or objectives. Before acting on this information, you should consider the appropriateness of the information, having regard to your needs, financial circumstances or objectives. The case studies used in the articles on this website are hypothetical and are not meant to illustrate the circumstances of any particular individual. Opinions expressed in this document are those of the authors only.